Non-staple Army fruit & Vegetable supply
INTRODUCTION
1.The federation implements such activity through contracts to lower marketing costs and maintain food safety for army soldiers.
2.Current 27 supply centers are supported by many farmers' associations while the federation assists 16 member cooperatives to supply 14 centers. The efforts of the federation and member cooperatives establish a stable supply system with good reputation for the annual trade of 469,175 thousand NT dollars.
OPERATION CONTENT
1.Accept army orders at supply centers 2 days before.
2.Cooperatives allocates supplies according to orders.
3.Cooperatives collect, grade, and pack products in collection centers.
4.Shipping products to supply centers on time for further distribution.
5.Agricultural cooperatives manage the transaction amount and apply for the payment from welfare General office, and then allocated it to the account No. designated by the supply center.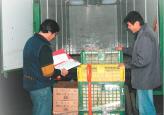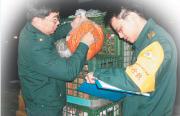 Managing and Handling for cooperative business
1.Directly supply the agricultural products for business operation , management , development, research, and instruction.
2.Directly supply the agricultural products for business item planning purchase, examining dispose, packing, supplying exhibition, selling and payment accounting and collection.
3.Coordinating planning supplying and operation management for various agricultural products marketing and supply.
4.Coordinating of business pf *cooperatives* to promote the marketing for agricultural specialties and holding the activities of tasting exhibition, promotion, ect. for specialties in the festival celebration days. Also, assisting the members of agriculture cooperatives to setup their own brands and marketing channel.
5.Promoting the work of the bar code for commodity(the bar code of our Assoclation is 2305)
progressively expand the marketing and distribution center, warehousing for agricultural products
1.Developing the effects of logistics to regulate the supply and demand of vegetables and fruits as well as dally supplles in the isiand-wide.
2.planning of direct supply and marketing by internet for agricultural products.
3.Operation management of frozen and refrigeration and direct marketing for agricultural products.
4.To cope with WTO and three-links between two stralts, this cooperatives is organized to be an operation center.
Expand the international business for agricultural products
1.Stressing on international exchange and wide collection for trading imformation of agricultural products to expand the tranding channel.
2.Instructing the members of cooperatives with the competent authority and related industries to manage the overseas marketing activities.
3.Depending on mechanism of domestic market Instructing and supporting the management for spectalties export business and balance the demand and supply for market.
Manage the exhibition and marketing business for agricultural specialties
1.Coordinating the competent authority to manage the promotion activities of interternational cooperative festival.
2.Programming and executing for festival celebration and promotion activities.
3.In order to develop the function of our cooperatives, big-scaled exhibition is held in the domestic country, and by combintion with local charactistics, cooperatewith eithercounty or city government to hold marketing activities tobenefit for products and consumers.